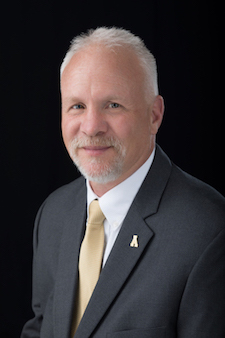 A message from Chief Information Officer David Hayler
When I think of 2020, the first thing that crosses my mind is clarity of vision. Everyone wants 20/20 vision. Information Technology began this year with vision and purpose, looking forward to new and exciting opportunities to continue adding to the value proposition we bring to campus. By mid-March the fog of a global pandemic allowed us to barely see a day or two in front of us. Campus was emptying and the technology challenge of moving everyone off campus into a new virtual world was just beginning. Over the next couple of months the obstacles we faced and overcame began to redefine Information Technology Services as we once knew it.
As the fog began to lift, it became clearer that our horizon was still in sight and many of the foundational technologies we had been working to build were beginning to pay dividends. Our VoIP deployment was just finishing up as we began moving campus to a work from home model. Offices were able to seamlessly transition their phone based business processes with little disruption. Our Pulse VPN service provides a secure tunnel for processing secure data transactions and has laid the foundation for a new standard in data security. Computer labs took on a new look as we moved them into a virtual cloud space ensuring students would have access to the software resources they needed, while providing the safest possible environment in which to learn.
By the end of May, our path forward was beginning to take shape again. We were able to focus less on the immediacy of the day, and look further out to where we were going. The pandemic would certainly affect our route, but the destination was beginning to brighten up. We were wrapping up our first full year with a new service desk platform, and were gaining a clearer understanding of how to manage IT tasks and projects, as well as beginning to prioritize campus demands. We completed an internal/external review of our operations, shining a light on areas of success, as well as, areas for improvement. This will be the foundation for our continuous improvement plan focused on IT governance and operational efficiencies.
Late this Summer ITS worked with Faculty to gain support for a DUO 2 factor solution for protecting institutional accounts. The world has taken a renewed interest in our reliance on technology, and those wishing to exploit this reliance are hitting us hard and with more sophisticated attacks. DUO is just one of several security based initiatives we will look to build out this Fall, as we look to provide a more secure computing environment for all.
The long hours and hard work put in by the ITS team and this University to bring students back to the safest possible learning environment must be commended. We should all be proud of the dedication and commitment shown by the Faculty and Staff to overcome the challenges and solve the problems created by this pandemic. As we wrap up the Summer and I begin to look forward toward the Fall, one thing in 2020 has come into sharp focus.
The long range view from the Top of the Mountain has never been clearer.
David Hayler