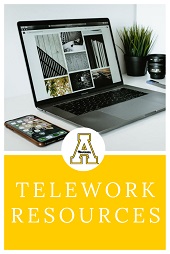 For App State University employees who need to work remotely, we've listed frequently asked questions and answers. For the latest updates as we expand IT services and offerings, please make sure to bookmark our IT knowledgebase: kb.appstate.edu
Below are resources available to allow you to work remotely from home (telework). More information on how to use the services below can be found at our Knowledge Base page located at Work from Home (Telework) Resources .
How Can I Get Technical Assistance with Remote Work Needs?
How Can I Remotely Access Secure Resources Required For My Job?
Some University provided IT services, for example Banner and uStor (Drive M:), require you to access them remotely via secure methods. One of these options for a secure connection remotely is to use uDesk (Virtual Desktop Environment).
An additional option is to use Pulse Secure VPN for creating a secure network connection between your computer and campus.
What Resources Are Available to Help Those Working From Home?
We have specific Knowledge Base Articles for working from home that covers many needs.
We also continue to update all of our Knowledge Base articles, so many of the questions that you may have can be answered by searching this website.
Visit remote.appstate.edu to explore remote tools & to find guidance on selecting the right tool for the job. The options for secure remote resources include:
How Can I Answer My University Phone Remotely?
Maintaining reliable and familiar communications channels are critical to business continuity.
If you are not able to answer your campus line, all inbound phone calls will go directly to voicemail. Every voicemail you receive will automatically be sent to your AppState email with full call details.
If your department has a business need to answer incoming university calls remotely, you can use Cisco Jabber.
How Can I Have a Face-to-Face Meeting Remotely?
AppState provides access to Zoom Video Conferencing for all Faculty, Staff, & Students.
Hangouts Chat is another option for face-to-face remote meetings.
ZOOM Video and Web Conferencing
Hangouts Chat
From direct messages to group conversations, Hangouts Chat makes it easy to communicate with your coworkers.
How Do I Manage Projects When Working From Home?
How Can I Stay Cyber Safe While Using Zoom?
ITS and CAE are aware of and continue to monitor recent news regarding Zoom security concerns.
Unauthorized access to Zoom sessions (aka "Zoombombing") have driven many of these recent concerns. While Zoom's recent growth has highlighted the need for continued security improvements, we believe Zoom's security model, with enhanced configuration settings, remains appropriate for most needs.
We have enabled passwords as a default setting for all new AppState Zoom meetings.
Here are a few important items related to this change:
This change only impacts new meetings added via the Zoom client or Google Calendar.
Zoom meeting links created through AsULearn have the 'Add Password' feature within AsULearn settings.
To add protections to previously scheduled recurring meetings via Google Calendar, you will need to delete and recreate the meetings with new Zoom links.
Directly invited guests will not need to enter passwords to join new protected meetings as links will contain needed security information.
The most updated information on securing your Zoom Meetings and Classes can be found at Keep Working and Keep Teaching, respectively.
When prompted, always install the latest update to your Zoom client. The latest update provides the host with a new security feature in the toolbar to quickly lock meetings once invited guests have joined (see image below).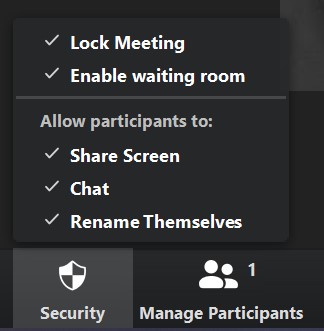 ITS and CAE will continue to work on improving the overall usability of this platform in the coming days.
How Do I Stay Secure When Working From Home?
Remain skeptical and aware of fraud email and social media posts especially during this time period. Report suspicious emails by forwarding them to phish@appstate.edu.
While working from home, do not store confidential University data to any personal devices (e.g. files that may contain ssns, banking info, health records). If you do not have a University device that can be used for work, then the UDesk (virtual desktop platform) can be used for work involving confidential data.
Please make sure that University computing devices are only accessed by you and not family members or guests.
All University managed devices will continue to receive security updates and protection while off-campus.
How Can I Help Faculty & Students To Use Graphically Intensive Applications?
uDesk Labs are online labs that students and faculty can use to access University provided software.
Currently the following graphically intensive applications are available in uDesk:

Keyshot 9
Rhino 6
Solidworks
Sketchup Pro
AutoCAD 2020
Revit 2020
Erdas Imagine
ENVI
To access the uDesk Lab containing the above applications, login to uDesk and select "Computer Lab GPU"
For information on using uDesk, please go to: https://remote.appstate.edu/udesk
If your students need access to any of the above software and do not already have that access, please submit a support ticket at https://tech.appstate.edu. Please include a list of your students needing access and their Appstate Usernames.
If you have software needs that are not available in either Student Lab 1 or 2, or in the Student Lab GPU, please enter a support ticket at https://tech.appstate.edu with the name of the application you are requesting to be added.
How Does My University-Owned Computer Receive Updates?
While working remotely, University-owned computers must connect to the Pulse Secure VPN to continue working effectively.
If University computers do not log in with the Pulse Secure VPN for a period of 30 days, then they may experience issues that can prevent their use.
To address this need, ITS strongly recommends connecting to Pulse Secure on a daily basis when working remotely (doing this at the start of each work day is a good habit).
Instructions for getting connected to the Pulse VPN can be found below:
Are There Additional Resources Available for Faculty?
If you need help, please enter a support ticket and someone from IT will contact you.