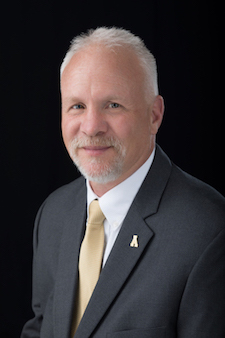 A message from Chief Information Officer David Hayler
It has been an exciting year of IT project implementation and incredible progress in many areas of technology! Phase I of our Banner 9 implementation was completed on schedule, with work beginning on Phase II immediately. IT Security expanded with two-factor authentication implemented for our staff, protecting their direct deposit and passwords. Our wireless umbrella expanded to include more of campus along with increased speed for our students. My focus in the last few months has been on making sure our policies and standards are updated in order to have a firm foundation for our future endeavors.
The current trends of social media include pushing us to stand out and be identified by our uniqueness. In technology, however, standardization allows us to build efficient business processes through automation. Standardization allows us to more effectively support our customers during a time of explosive growth in technology, and standardization creates consistency in our users' experience.
This past year was spent refining and standardizing our governance and IT acquisitions processes. We have also focused on building standardized functionality into our newly acquired IT Service & Project Management platform. As we begin to roll this out and realize the value of these improvements, it is my hope that we will create a better user experience through greater process efficiencies, improved documentation, and better prioritization of our efforts toward our strategic objectives.
This year we will roll out a new IT Acquisition Standard, which will streamline processes for campus purchases of technology. It is our goal to create a simpler, better-defined approach to the necessary steps to purchase hardware and software for departmental use. This approach is designed to provide greater visibility into technology and resource needs. It will also allow ITS the opportunity to provide critical input into helping departments achieve their goals, and ensure technology acquisitions meet security standards before we make an investment. All of this will allow us to be better stewards of our institutional resources, eliminate duplication of resources, and ensure alignment of our technology investments with our strategic goals.
We are also rolling out our new Jira Service Desk for the fall semester. This will replace Tech Excel and provide an improved experience for reporting and prioritizing technology support requests. Our users will find access to a robust and ever-growing knowledge base that encourages self-service support to streamline resolutions to many common technology issues. Jira Service Desk is a feature-packed collaboration tool that will allow our HelpDesk to develop better, more up-to-date documentation on the services we provide.
Continual business process analysis and improvement is critical to the success and growth of Appalachian State and our technology enterprise. I am excited about realizing the value of our efforts this year and I am optimistic that these efforts will bring meaningful improvement to our students, faculty, and staff. I want to thank my staff and all campus IT for their collaboration and what they do on a daily basis to improve technology for Appalachian State University.
David Hayler
cio@appstate.edu