Message from the Interim Chief Information Officer
As App State embarks upon a new semester, I am pleased to provide a technology report that outlines our current projects and goals and looks ahead to what's on the horizon for the spring 2023 semester. We will provide reports like this one each semester to keep our community apprised of the latest IT developments on our campuses.
App State's Information Technology Services (ITS) team endeavors to work with you as a strategic partner in achieving your technology objectives, solving your problems and preventing disruption or exploitation from unauthorized users.


Who is ITS and what do we do?
We're an integrated team of more than 100 professionals in six divisions with a common commitment to advancing App State's academic mission, strategic priorities and business operations. On any given day, our talented and diverse team is working hard to support, manage and safeguard a range of mission-critical tools. These include office phones, physical technology in the classroom and myriad devices at our desks or in our residence halls, as well as online platforms that allow us to work individually and collaborate.


Resources to facilitate professional development and student learning
ITS consistently looks for new ways to apply technology to facilitate student learning and professional development opportunities.
A new resource that's available to employees is LinkedIn Learning (formerly Lynda.com), an on-demand library offering a rich array of more than 16,000 instructional videos developed by industry experts. The suite of training videos is designed to help you explore a wide variety of topics, stay current in your fields and advance your careers, as well as foster a love for lifelong learning.


App State currently has 21 active learning classrooms that put students at the center of dynamic learning spaces. ALCs feature integrated technologies and shared displays that foster greater student discussion and collaborative problem-­­solving, and we expect this number to increase.


uDesk is a great resource that's available to students and employees for hybrid or remote work, providing a robust "on-campus computer lab experience" anywhere that an internet connection is available. With uDesk, students can access software for general coursework, such as Office 365, as well as specialized applications like SPSS, MATLAB, GIS and CAD. Faculty and staff can use this tool to access enterprise campus software and services off campus. uDesk reduces costs and improves sustainability through decreased power consumption in our physical labs and electronic waste for heavy-load applications.


Cybersecurity initiatives
The ITS team remains focused on protecting our university from unauthorized access to secure information and damage or disruption to our technology services. Each day, we successfully thwart millions of cyberattacks. Recently, in one 7-day period, 7.6 million attempted emails were sent to campus addresses, with 5 million identified as threats. We greatly appreciate the advocacy and investment of Chancellor Everts to bolster cybersecurity on campus.
ITS' Cybersecurity Improvement project encompasses several initiatives, all designed to strengthen the security of our technological environment while engaging every member of our community in this shared responsibility.
App State's new enhanced email tagging feature incorporates the use of a tag in the subject line of email messages to allow for easy identification of message categories and content.


This week, we are promoting and participating in Data Privacy Week to help raise campuswide awareness about online privacy and educate users about securely managing their personal information.


In addition, we have several training and awareness resources available to help you better manage your personal information and make informed decisions about who receives your data, as well as resources on how to avoid being a target.


Our annual Cybersecurity Awareness training aims to equip employees with the knowledge to protect themselves and the university from common cybersecurity threats, such as social engineering, phishing and data loss or exposure. I appreciate employees' strong participation in this training last year as we embrace the important role each of us plays in keeping our IT environment safe and secure.


Improving the speed, efficiency and resilience of our connectivity network
One of ITS' largest upcoming initiatives is our Network Refresh project. This multi-year project will modernize our connectivity network, which has evolved to become both the backbone and connective tissue for a more complex and dynamic constellation of hardwired and wireless devices — from laptops, tablets and smartphones, to watches, ID cards, gaming consoles, research equipment and Wi-Fi speakers.
Constant connectivity and high-speed performance from multiple devices for each member of our university community increase the overall security risk of the network. Fully refreshing the App State network will enhance our ability to manage risk with greater security controls while delivering other important benefits:
Improve users' experience in terms of speed, simplicity, efficiency and resilience;


Improve users' access to IT services by supporting efforts such as our Identity and Access Management project; and


Support scalable growth as we begin to develop the Innovation District on the Boone campus and bring online the employees, students, hardware and devices at our new Hickory Campus.


Teamwork and partnerships
ITS prides itself on our service-focused approach, teamwork, collaborations and partnerships across the university. A key example is our longstanding partnership with the Office of Disability Resources to develop our Digital Accessibility Working Group and implement an in-depth website, which provides accessibility information, guidance and tools for the campus community so all App State faculty, staff and students can enjoy positive digital experiences. Our collaborative partnership helps us meet the growing need to deliver more digital academic content, and together, we continue to focus efforts on making it easier to share accessible teaching and learning assets.
Finally, I would like to take this opportunity to showcase the dedication of our ITS Help Desk and Technology Support Center teams. They serve on the frontline as our "first responders," working in a tech-triage environment in which cybersecurity threats are growing and user expectations are higher than ever. During the height of our pandemic response, these teams managed a 33% increase in call volume, remotely assisting each caller with problems that ranged from simple to complex. They continue to use their honed skills and expertise with remote assistance to help students, faculty and staff solve problems every day.
ITS is committed to enhancing our capabilities and building even stronger partnerships in the future as we apply a range of tools and services to increase access to App State's one-of-a-kind educational experience.
Sincerely,

Tom Van Gilder
Interim Chief Information Officer

January, 25, 2023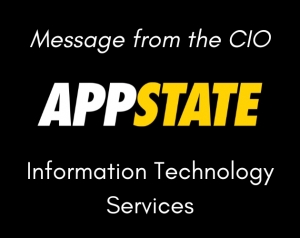 Tags: