IT Governance
IT Governance provides processes and structures that specify how we make technology decisions, implement and manage technology changes to ensure the effective and efficient use of IT in enabling the University to achieve its goals. Our Information Technology Governance Policy can be found in the Policy Manual.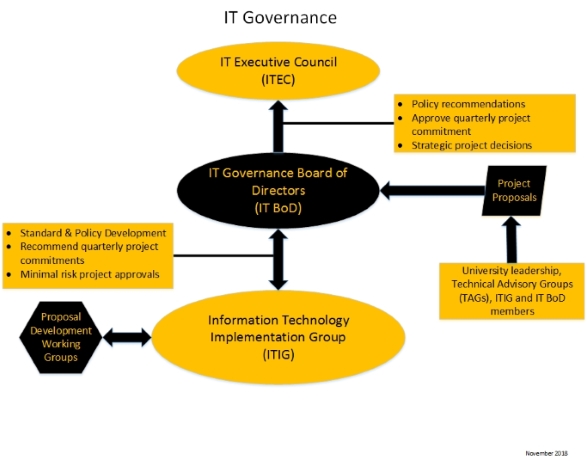 IT Executive Council (ITEC)
Oversees the IT governance structure, reviews major IT projects which introduce institutional risk, involve significant changes, and/or require cross division funding, and provides high level oversight to ensure that our limited IT resources work on our most pressing needs and strategic goals. View Membership
---
IT Governance Board of Directors (IT BoD)
Reviews IT operations, proposals and projects to advise the CIO on demand management, strategic alignment, value delivery, policy/procedure development, and risk management. View Membership
---
IT Implementation Group (ITIG)
Recommends and supports the development of holistic IT proposals, approves IT project artifacts, and conducts gap analyses for new and/or significant changes to IT policies and standards. View Membership
---
Oversees the development and maintenance of standards needed to ensure the consistent treatment of institutional data, as well as periodically reviewing and reporting on the effectiveness of University data management practices. View Membership
Technical Advisory Groups
Technical Advisory Groups (TAGs): University committees, councils and advisory groups that the IT Governance Board of Directors recognizes as IT Governance groups due to their charge of assuring that information resources and technology needs are supported to advance the University mission.
| | | |
| --- | --- | --- |
| Name | Focus | Contact |
| | Banner | Tena Gulliver |
| AppState Computational Research Users Group | High Performance Computing | Jeff Tickle |
| | AppSync Communication and Student Engagement Platform | Dustin Evatt |
| Google Technical Advisory Group | Google Apps Suite | David Earp |
| | Information Security Plan, information security standards and strategic initiatives. View Membership | Jim Webb |
| | Internship Inventory Web Application | Adryona Nelson |
| LMS Advisory Group | Our learning management system, AsULearn. | Emory Maiden |
| Maintenance Committee | IT Maintenance | David Earp, Jason Grubb |
| Payment Card Oversight Committee (PCOC) | Provides review and advisement concerning: Payment Card Services and Solutions Changes To Authorized Payment Card Services and Solutions Compliance Assessment and Reporting | Heather Reeves |
| Teaching and Learning Spaces Advisory Group | Teaching and Learing Spaces | Tom Van Gilder, Tom McDonnell |
| University Research Council | Research | Karen Fletcher |
To request recognition as a TAG, please send the following to our Project Management, Governance and Outreach unit at pmgo@appstate.edu: 1) the name of the group, 2) responsibilities and authority of the group including technology focus area, 3) the IT Board of Directors member that the group reports its actions or recommendations, and 4) primary contact(s) for the group.