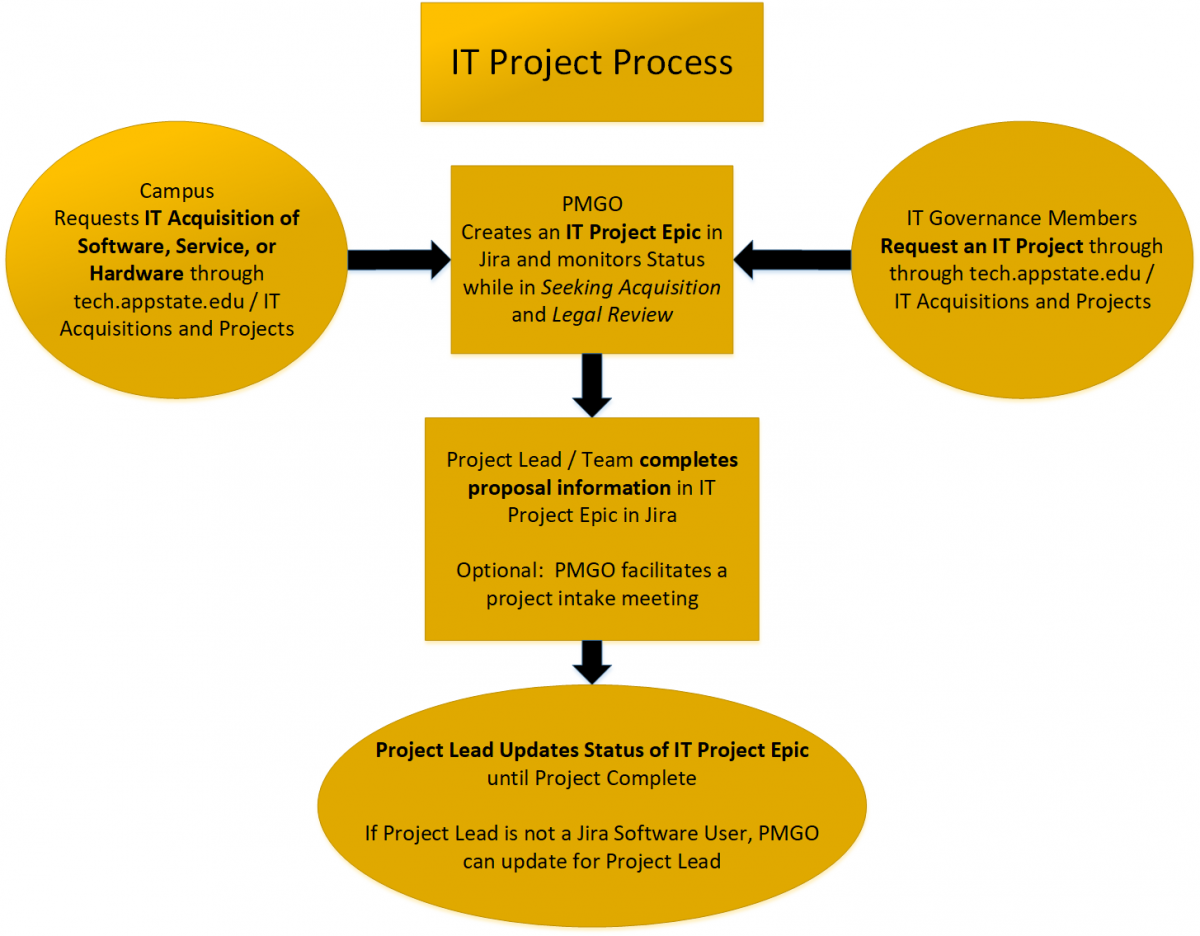 Definitions:
IT Project: Temporary endeavors to introduce new Appalachian IT Services, as well as implement significant changes to existing Appalachian IT Services. (Source: IT Governance Policy)
Committed IT Project: A committed project is a "shovel ready" project that IT is committing to finishing in a specified Quarter
Project Intake Meeting: At the beginning of an IT Project, ITS Project Management, Governance and Outreach (PMGO) can facilitate an intake meeting with the project team/stakeholders to:
Review the anticipated project scope, assumptions, timing constraints, any specific obstacles, risks, and dependencies
Discuss and if possible confirm agreement of Project Description, Need, Benefit, Approach and Project Completion criteria
Confirm roles and responsibilities for the implementation project and when any resulting IT Service is operational
Cover any other issues that the group wants to discuss (e.g., develop high level stories/tasks to complete the IT Project)
Project Lead: lead and manage the project by:
Completing Proposal Information in the IT Project Epic in Jira and/or request that PMGO facilitate a project intake meeting (resource in Confluence: IT Project dictionary requires login and Confluence license)
Reviewing and confirming agreement with project team of project objectives and key details
Developing the structure of how the project tasks will lead to project completion
Communicating project progress and changes to stakeholders
Working with appropriate decision makers to resolve issues, provide updates, manage risks, and understand project priority
ITS Project Leads and Others Project Leads with Jira Software Licenses: Use the Add Biweekly Status button that is visible when the IT Project Epic is In Progress and enter a short Project Update at least every 2 weeks to explain what was accomplished in the past two weeks, what work is planned for the next two weeks, and any particular items going well or not. (resource in Confluence: How do I use the Add Biweekly Status Button? requires login and Confluence license)
Note: Teams that use Jira Software for work should link Jira work to the IT Project Epic
Project Sponsor: person or group who "owns" the project and 1) ensures that the project is aligned with University goals, 2) defines the criteria for project success, and 3) advocates and provides resources and support for the project to enable its success. The project sponsor acts as an escalation point for issues beyond the project lead's control, and is a decision maker for project progress and phases. All IT Projects also have a University Division/Directorate Sponsor (i.e., Academic Affairs, Business Affairs, Student Affairs, University Advancement, University Initiative, and ITS) as well.